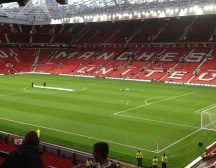 Posted on 15th August 2016 by Charter A
Manchester United vs Southampton.
Friday, 19 August, 20:00
Old Trafford
Travel to this game by chartering your own Helicopter.
If you are a follower of Manchester United or Southampton travelling from the South of the UK can be a task by car or train. You can now charter your own Helicopter to Manchester or even use one of our private jets or turbine prop planes to get you there and back. The best way is to Helicopter Manchester.
This particular game falls on a Friday and to arrive in good time it would mean travelling through the Friday afternoon rush hour and holiday traffic depending where you are coming from. Many followers of these clubs live and work in London or the South East of England. A Friday night game in Manchester like this travelling by car would ruin your entire weekend with waited time.
For Example: Helicopter Manchester flying time
London to Manchester by car would take around 4 hours and 38 minutes according to Google .
Chartering a Helicopter to or from Manchester is easy, offers a massive time saving and gets you there in a fit state to enjoy the game.
London to Manchester by Helicopter will take you 1 hour 10 minutes with no traffic to stop you and land 15 minutes taxi ride from the game.
Contact us for Helicopter Charter Manchester, London or Southampton on +44 (0) 1737 823 733 or email machester@charter-a.com 
Share This Post with your Friends: