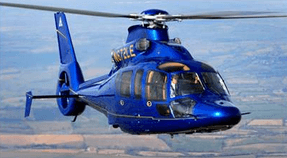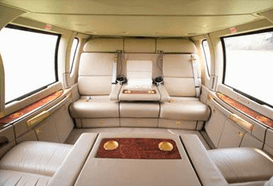 8 Passenger Helicopter
VIP Interior
Spacious Luxury Cabin
VIP Twin Engine Helicopter
Business Helicopter
Flies in Variety of Conditions
Quiet Corporate Helicopter
Great Night Flying Aircraft
Eurocopter EC155 Helicopter
All flights are regulated by the Civil Aviation Authority CAA
Civil Aviation Authority
The EC-155 is a high performance, long range helicopter. The spacious cabin offers a luxurious 6-8 seat VIP interior make the EC-155 interior the largest in its category suitable for a variety of roles.
Passengers will appreciate the panoramic view and the feeling of a wide open space. The EC-155 features a class leading low external noise signature, which combined with a vibration free ride, ensures the highest level of comfort for passengers equal to that of a luxury business jet.
"Efficiency is Part of Our Uniform"